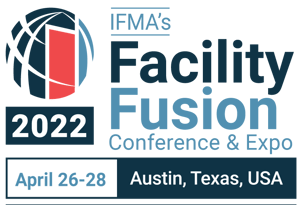 Event Marketing
Guide
+
Toolkit
Promote your participation in Facility Fusion 2022
Tips and guides to help promote your participation
Thank you for supporting IFMA's Facility Fusion 2022! To prepare for the event, please use these helpful tips and materials to promote your participation in the conference and encourage attendance. The more attendees we welcome, the more insights and perspectives we can all draw from, making us better informed and prepared to manage our facilities.
Use the talking points to highlight World Workplace at upcoming meetings and events or on social media.
Thank you for the great work you do for IFMA!
– The IFMA Team
IFMA's Facility Fusion® 2022 Conference and Expo
If you're referencing Facility Fusion for the first time in an article, press release or marketing piece, or if the title stands alone in a headline, calendar listing, etc., use the full event name: IFMA's Facility Fusion® 2022 Conference and Expo.

Note that a superscript Registered mark should be used next to "Fusion®" on first reference.

After first reference, it's acceptable to use "IFMA's Facility Fusion" or "Facility Fusion."
Do not abbreviate as "FF" in external marketing, P.R., editorial or other formal communications.
IFMA's Facility Fusion® 2022 Conference and Expo

April 26 - 28, 2022

Renaissance Austin Hotel




9721 Arboretum Boulevard




Austin, Texas 78759




USA
Going beyond the new normal
Join the conversation and share your experience on social media. Tag us at #facilityfusion

LinkedIn & Twitter: @IFMA
Facebook: @InternationalFacilityManagementAssociation
Instagram: @ifma_hq


Email Badges
Add a badge to your email signature to show your participation and encourage your members, customers, network to register.

Social Cards
Share these social cards to promote the conference via your social networks to show that you're attending, exhibiting, sponsoring or speaking.
About IFMA's Facility Fusion
With sweeping changes in work and workplace, it's imperative for facility management professionals to lead their organizations to higher levels of performance and experience. Hosted by the association that has provided training, knowledge sharing and support to FMs globally for more than 40 years, IFMA's Facility Fusion is about building future-ready leadership skills. It's about exploring what's possible – for our facilities, industry and careers. It's about synthesizing ideas and industries for a new world of work. It's about fusing methods and mindsets from both within and outside of FM to find answers. It's about having the tools to adapt to rapid change.
Discover your own leadership style
Turn uncertainty into positive action
Inspire and equip the people you influence
Reduce risk, increase resilience
When & where?
April 26-28, 2022
Austin, Texas, USA
Who hosts?
IFMA supports more than 20,000 members in 135 countries. Since 1980, IFMA has worked to advance the FM profession through education, events, credentialing, research, networking and knowledge-sharing.
Learn more about IFMA »
Who attends
Facility Fusion welcomes facility management professionals from 46 U.S. states and 20 countries, representing approximately 800 companies.
Why attend?
Facility Fusion is all about focus — on your needs as a facility manager, on your concerns in supporting specific facility types, on your career advancement and on building your professional network. What you learn and who you meet benefit both you and your employer.
You'll gain best practices for improving operational efficiency, as well as field-tested strategies for increasing employee productivity through a better work environment.
You'll stay up to date on industry trends and standards, helping you ensure that your organization is current, compliant and competitive.
You can tailor a learning agenda applicable to your job responsibilities and existing facility issues.
The expo saves you hours of independent research on products, services, and suppliers. Fusion exhibitors not only introduce you to their solutions but educate you on how to make those solutions work for you.
Connecting with fellow practitioners, topic experts, and reputable solution providers allows you to compare processes, share ideas and return to work with solid recommendations for improving the workplace.
Employers who support their FM team's continuing education ensure that their facility is being managed by informed and prepared professionals.
With Full Event registration, you'll gain a wealth of relevant, reliable information in one place, for an affordable price
Going beyond the new normal
Normal has suddenly gone from new to next to now. Change is happening so fast, if you blink, you miss it. Facility managers have a principal role in adapting space, technology, policy and purpose for competitive advantage, improved user experiences and net-positive impact.
Extraordinary times call for extraordinary leaders. Supercharge your ability to enable advancement, both for you and your organization. Speakers will explore the latest built environment objectives and outlooks, providing direction in every area of strategic FM leadership – operational, digital, environmental, cultural, cross-functional and transformational.
Event Highlights:
Prepare for the mobile revolution
Power speaker - Erik Qualman, #1 Digital Leadership Speaker
Become a net-positive contributor to society
FM Symposium - Beyond Net-neutral Buildings
Learn to thrive as a high-performing leader
Power speaker - Tim Salau, Mr. Future of Work
Your most pressing questions answered
Ask the Experts - Back by popular demand
Make the most of your experience
IFMA courses - CFM® Exam Prep, Real Estate, Sustainability
See adaptability and innovation in action
Facility tour - LEED Gold certified Q2 soccer stadium
45+ pacesetting speakers help you get a game plan
30+ hours of educational content help you set a course of action
65+ go-to exhibitors demonstrate today's top tools
1,000+ valuable connections to be made over 2.5 days