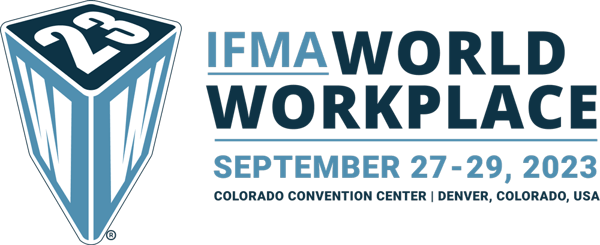 Event Marketing Guide + Toolkit
Promote your participation in
IFMA's World Workplace® 2023
Your go-to hub for tips, guides and templates
Thank you for supporting IFMA's World Workplace Conference and Expo!
To prepare for the event, please use these helpful tips and materials to promote your participation in the conference and encourage attendance. The more attendees we welcome, the more insights and perspectives we can all draw from, making us better informed and prepared to manage our facilities.
Use the talking points to highlight World Workplace at upcoming meetings and events or on social media.
IFMA's World Workplace® 2023

Note that a superscript Registered mark should be used next to "Workplace

®

" on first reference.

Do not abbreviate as "WW" in external marketing, P.R., editorial or other formal communications.
September 27-29, 2023

Colorado Convention Center


700 14th St.
Denver, Colorado 80202
Join the conversation and share your experience on social media. Tag us at #WORLDWORKPLACE

LinkedIn & Twitter: @IFMA

Facebook: @InternationalFacilityManagementAssociation

Instagram: @ifma_hq



Email Badges
Add a badge to your email signature to show your participation and encourage your members, customers, network to register.

About World Workplace
IFMA's World Workplace® is the largest, most highly acclaimed FM conference in the world.
Established in 1995, World Workplace is the original forum for groundbreaking discussions on facility management and the wider built environment.

It's where all workplace professionals come to discover innovative FM technologies, build valuable relationships and sharpen essential skills.


When & where?
September 27-29, 2023
Colorado Convention Center
Denver, CO, USA
Incomparable experience. Incredible value.
IFMA's World Workplace has set the pace for others to follow since 1995. Some try to imitate but cannot truly replicate the original, all-encompassing learning and networking event for FM and the wider built environment.
Learning
Gather sought-after practices, breakthrough ideas and supersmart tools to help you adapt, manage and master change.
Linking
Build your network across disciplines and around the world, exchanging viewpoints, outlooks, methods and experiences.
Letting Loose
Come for the incredible people, facility management training and networking, stay for the music, food and entertainment. Bustling bars, breweries and lively music, await in Colorado's capital.
Why attend?
IFMA's World Workplace® is the marquee facility management event for all facility professionals working in the built environment. Whether your a facility manager, property manager, work in human resources (HR), construction, or are a vendor or service provider to the facilities management industry, World Workplace is the must-attend event for incredible thought-leadership, networking, education, and lead-generating opportunities.

Grow your professional career or business by connecting with the greatest minds and incredible people in facility management. If you've never attended an IFMA World Workplace it'll be an experience you'll never forget.
What to expect at World Workplace
5,000 attendees

80+ sessions

100+ speakers

300 exhibitors

50+ product/service categories

2 outstanding keynotes

5 amazing facility tours

Unlimited networking opportunities