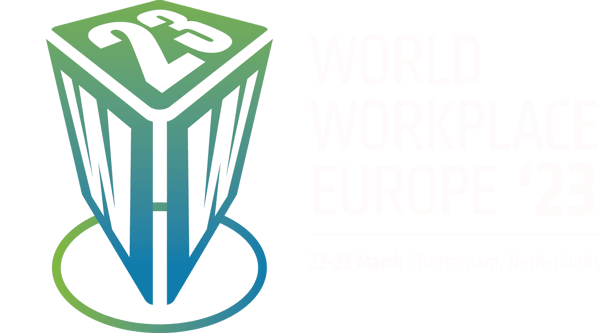 Event Marketing
Guide

+

Toolkit
Promote your participation in World Workplace Europe® 2023
Your go-to hub for tips, guides and templates
Thank you for supporting World Workplace Europe 2023! To prepare for the event, please use these helpful tips and materials to promote your participation in the conference and encourage attendance. The more attendees we welcome, the more insights and perspectives we can all draw from, making us better informed and prepared to manage our facilities.
Use the talking points to highlight World Workplace at upcoming meetings and events or on social media.
Encourage members to follow and post thoughts, images and videos via #WORLDWORKPLACEEUROPE and tag @IFMA @FMN @EUROFM
World Workplace Europe® 2023

Note that a superscript Registered mark should be used next to "Europe

®

" on first reference.

Do not abbreviate as "WWEU" in external marketing, P.R., editorial or other formal communications.
22-23 March 2023

The Schiecentrale




Sint-Jobsweg 116, 3024 EA Rotterdam, The Netherlands




Rotterdam, Netherlands
FM leading the transformation towards a better future
This year's theme focuses on the leading role that facility management plays in creating a better world through various aspects:

Health and well-being in the work environment
Implementation of sustainable solutions and decreasing environmental impact
Diverse and inclusive environments
Collaboration between HR, FM and IT
Using digitalization and technology to reduce costs and improve productivity
Join the conversation and share your experience on social media. Tag us at #WORLDWORKPLACEEUROPE
LinkedIn & Twitter:

@IFMA

Facebook: @InternationalFacilityManagementAssociation
Instagram:

@ifma_hq


Email Badges
Add a badge to your email signature to show your participation and encourage your members, customers, network to register.

Social Cards
Share these social cards to promote the conference via your social networks to show that you're attending, exhibiting, sponsoring or speaking.

Templates
Customize for slide decks or presentations. NEW for speakers - Use the Speaker Card template below for promoting your session at World Workplace Europe.
About World Workplace Europe
World Workplace is the original all-encompassing learning and networking event on facilities and how to manage them. There's program value for FM professionals at every point of their careers and across all types of facilities. World Workplace Europe is the gold standard for discovering new ideas and technology from around the world impacting the European FM industry
When & where?
22-23 March 2023
Rotterdam, Netherlands
The Schiecentrale
We're excited to announce that World Workplace Europe 2023 will take place on 22-23 March in the impressive city of Rotterdam, Netherlands at our new venue, Schiecentrale.

Rotterdam is the known as the architecture capital of Holland that stimulates innovation. With cutting-edge housing concepts to spectacular views of the waterfront and rich historical buildings, there is much to experience in and around this city. We invite you to participate in World Workplace Europe while seeing everything that Rotterdam has to offer.
Why attend?
World Workplace Europe is the largest and most well-respected conference for facility management and related stakeholders in the region. Held annually, World Workplace Europe facilitates idea-sharing and knowledge-exchange between professionals who support and sustain the built environment to ensure smarter, more efficient, healthier, sustainable and safer facilities.
You'll gain best practices for improving operational efficiency, as well as field-tested strategies for increasing employee productivity through a better work environment.
You'll stay up to date on industry trends and standards, helping you ensure that your organization is current, compliant and competitive.
You can tailor a learning agenda applicable to your job responsibilities and existing facility issues.
Connecting with fellow practitioners, topic experts, and reputable solution providers allows you to compare processes, share ideas and return to work with solid recommendations for improving the workplace.
Employers who support their FM team's continuing education ensure that their facility is being managed by informed and prepared professionals.
With Full Event registration, you'll gain a wealth of relevant, reliable information in one place, for an affordable price
Brought to you by Europe's top FM organizations
Building on a successful four-year collaboration, International Facility Management Association (IFMA) and Facility Management Nederland (FMN) will partner again to bring World Workplace to the European market. They will also continue their successful collaboration with European Facility Management Network (EuroFM).