Member Benefit of the Month
A monthly opportunity to advance your career
As a full IFMA member, you have access to a variety of membership benefits to propel your career forward, keep pace with a changing industry and bring added value to your organization. The member benefit of the month is an opportunity for you to gain current information and stay on top of facility management trends. Get started today to make the most out of your membership.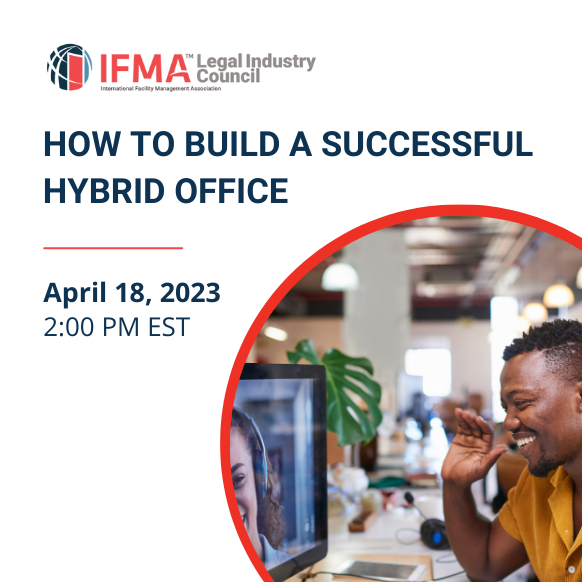 How to Build a Successful Hybrid Office: The Three Basic Elements



April 18, 2023 | 2 PM ET-US
Hybrid operations are here to stay, but building a successful hybrid office that also makes your employees happy? That's a challenge. With 93% of firms now reporting they want to leverage some type of hoteling, firms must balance opportunities such as optimizing real estate against the challenges of preserving and promoting firm culture in the office. The secret is: hybrid can be successfully and quickly implemented when guided by three simple elements. Join this session with COO of Maptician, AshLea Allberry, as she provides the strategy for building a successful hybrid office that helps firm optimize space and enables employees to connect and collaborate when they are in the office.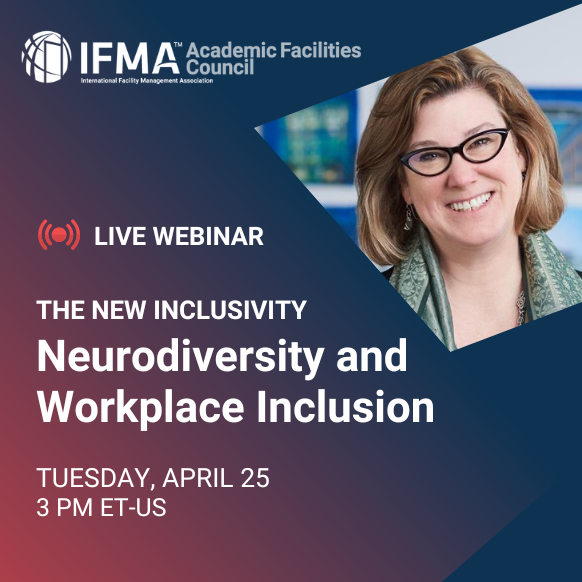 The New Inclusivity: Neurodiversity and Workplace Inclusion

April 25, 2023 | 3 PM ET-US
We are living in a time of increased numbers of individuals with neuro-sensitives and special needs, such as ADHD. These individuals can be high energy, out-of-the box thinkers who excel in a crisis. Join Kay Sargent, Senior Principal and Director of Workplace for HOK, to explore creating spaces that are more physically and culturally inclusive to allow people with a wide spectrum of abilities to thrive.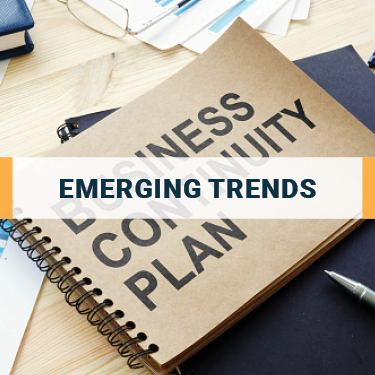 Free Quarterly Video




Facility Management and Business Continuity
Learn about the commonalities between FM, business continuity, disaster preparedness and disaster recovery.
Review the commonalities in FM, business continuity, disaster preparedness and disaster recovery.

Recognize that smarter disaster preparedness and recovery will drive smart facility decisions and your credibility.

Learn about Public Law 110-53 Private Sector Preparedness and how it sustains facilities for smarter facility management.

Implement a program to work closely with disaster recovery and risk management departments to increase visibility.
Full IFMA members can access the video for free until June 30, 2023. Watch the video
Free Printed Copy of SONARE: The Environmental

Acoustics

Magazine
As companies attempt to draw employees back to the office, occupant satisfaction has never been more important. Organizations need to implement strategies that keep staff happy and productive enough within the workplace that they want to come in. As many employees are concerned with speech privacy and noise control, facility managers need tools to help discuss and plan for effective acoustics. SONARE: The Environmental Acoustics Magazine helps building professionals better understand acoustical issues and how to address them, as well as new perspectives on acoustical comfort, privacy and equity within the workplace.
Request a Copy
Sustainability

Best

WORST Practices
What not to do to operate an eco-friendly facility...and how to shift more sustainable operations. If sustainability has taken a back seat within your facility operations, now is the time to prioritize more eco-friendly practices before it's too late. This guide covers common mistakes facilities make (both in overall eco-friendly strategy and more granular tactics), the consequences that can follow, and corresponding solutions that can lead your facility operation's green program to success. Read the eBook in IFMA's Knowledge Library to see if your facilities are committing any of these environmental oversights.
Start Reading
High-Quality Courses from Thought Leaders
IFMA has partnered with trusted organizations to provide additional education opportunities for crucial aspects of facility management. Your IFMA membership gives you and your team access to the best in facility management training — all in one place. Get special discounts and offers from our industry partners and explore training across cleaning operations, data governance, furniture and more.
Explore Course Options
January 2022: Save 20% on a JOBnet Posting

February 2022: The 17 Mistakes Made in Emergency Plans

March 2022: IFMA's Asia O&M Benchmarking Report and 2021 Facility Fusion Reimaging FM Symposium

June 2022: Free Self-Assessment Tool

July 2022: 50% off Annual Subscription to IFMA's FMJ

August 2022: Critical Infrastructure Webinar

September 2022: IFMA's Speaker Directory

October 2022: AV Technology Guide

November 2022: Circular Economy Webinar

December 2022: 25% off Facility Fusion Registration

January 2023: Knowledge Library is 100% Free

February 2023: Virtual Roundtables