Get hands-on preparation for the CFM Exam
Meet your career goals with the assistance of Facility Fusion prep courses. These courses provide in-person training, practical experience and expert instruction that enables you to get a clearer view of your career path and support your professional development objectives.
APRIL 14, 2023 I 8:00 a.m. - 12:00 p.m. I Post-conference
CFM Prep Course
Review the methodology of the competency-based exam, practice applying critical thinking skills and discuss the rationales used in practice exam questions. You'll review the overall methodology of the CFM Exam and practice applying FM knowledge and critical thinking skills in a competency-based exam through practice exam questions. Added value: Classroom courses allow you to ask essential questions and discuss real-world examples.

Learn more about CFM →

Please Note: Materials offered by IFMA to prepare for the CFM exam, such as the CFM Exam Prep Workshop and CFM practice exams, are optional study resources and are not a requirement of eligibility, nor are they endorsed by the IFMA Certification Commission.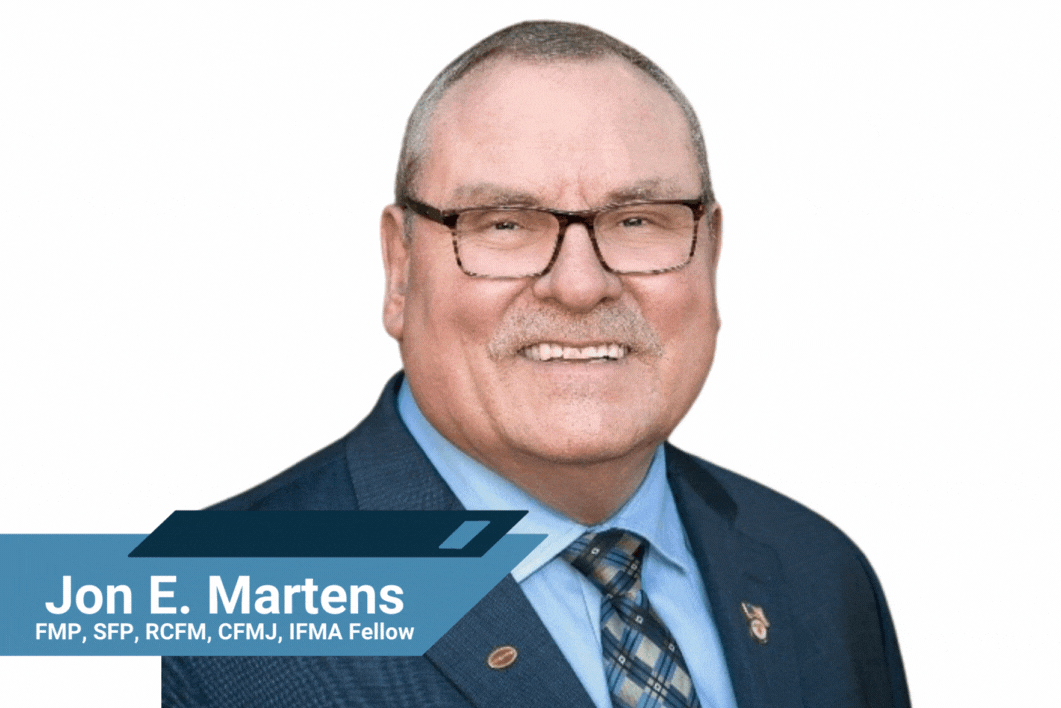 About Jon E. Martens
Jon has more than 40 years of in-depth and diverse facilities experience in both the private and public/government sectors. He is the founder of the JEMCOR Companies, devoted to positively impacting social consciousness and working with socially conscious organizations. Mr. Martens is called upon by many U.S.-based and international organizations to apply his extensive experience in consulting activities within the built environment, providing specialized educational requirements, and mentoring.

Mr. Martens has conducted seminars and presentations to companies and groups on the dimensions and challenges facing facilities professionals. In addition to his public speaking and lectures, Jon is an IFMA-certified Master-Instructor. Among his instructional talents and experience with many academic organizations and universities, he is a master instructor of all of IFMA's 11 competency courses, known as the Facilities Management Book of Knowledge (FMBOK), the Facilities Management Professional (the FMP), the Sustainable Facility Professional (the SFP), and is world renown for his expertise as a master instructor for the Certified Facility Manager (the CFM) Course.

Mr. Martens has developed and taught Facilities Management Courses at the University of California – Berkeley, CA, USA for over 18 years. He is a visiting professor at other universities around the world.

Jon is a retired U.S. Navy veteran of 26 years serving in many capacities and commands, eventually retiring as an E-9, Command Master Chief. He developed materials for the Chief of Naval Education & Training and was an instructor during many of his tours of duty as well.

Jon has traveled extensively around the world over the past 40+ years and is known for being the subject matter expert for the materials utilized in the courses he instructs, he has authored, co-authored, and been the consultant subject matter expert for numerous seminar development, college courses, and site-specific instructional materials for organizations in the facilities profession. Mr. Martens was inducted into IFMA's Fellows as the class of 2008 in Dallas, Texas at their World Workplace International Convention, in October 2008. He received a B.S. in Business Administration from the University of Wisconsin and furthered his studies with the MBA program at St. Ambrose University.
Get updates about Facility Fusion
Submit your email to stay updated on event announcements, discount offers and important details.